Digital Marketing is something that cannot be neglected. In every form of business from products to service-oriented industries, Digital Marketing has paved its way to becoming something of extreme importance and concern. With companies around the globe working into experimenting with their work the reliability lies particularly upon the basics and the know-how of digital marketing. From new start-ups to big multi-million companies all seem to trust digital marketing to its very core.

Before discussing how digital marketing has benefited E-Commerce businesses, let us understand the primary meaning of this term.

In terms of general knowledge, digital marketing or online marketing or online promotion as you may call it is basically a very modernized yet effective way to get to your target audience using the online platform or related application that would ultimately generate revenue and lead to significant ROI generation for your brand. Now digital marketing has penetrated into all forms of businesses. As mentioned above, from product-related industries to service industries, the biggest marketing minds of the world have undoubtedly agreed to the fact that if digital marketing is implemented in the most correct manner, it can bring wonders to one's business.

Also, as we are discussing the benefits that digital marketing brings to E-Commerce business, let us hence get into the core meaning and vitality of the subject.
What's an E-Commerce?
Let us take the above picture into consideration, suppose you wish to buy yourself a laptop available this Christmas as shown in this site. The time is long gone when you would need to rush to your nearest store in search of the product and buy before anyone get their hands on it. The whole chain of acquiring the product can be done through a website, all your payment, receipt receiving, feedbacks and many more. This is what an E-Commerce site is all about.

This was from a user's POV.

Next, let us see how an E-Commerce website can benefit a business owner. The era is gone when you would need to keep your stock in your showroom for the public to view and get lucky when a new customer enters. All the hassle is no more required. Just upload good pictures of your product into the website, with significant information about the same and it's sold in no time.

The process may sound simple but it always isn't. Digital Marketing comes into the role at this point. Better results are ensured when one gets the job done by the best digital marketing agency ensuring a significant revenue generation in their E-Commerce business.

Now, what appropriate digital marketing channels and tactics does one need to implement in order to ensure that the business runs smoothly and the growth rate is higher than ever before.
Let us check a few-
1. Search Engine Optimisation and Search Engine Marketing (SEO & SEM)

We are into using google for every single question that arises in our minds to fulfilling every need and wants of ours. SEO is basically a very crucial digital marketing strategy that if implemented in the most appropriate manner helps your website rank at the top when someone searches for the relevant service or products provided by you. Check the image for a better understanding.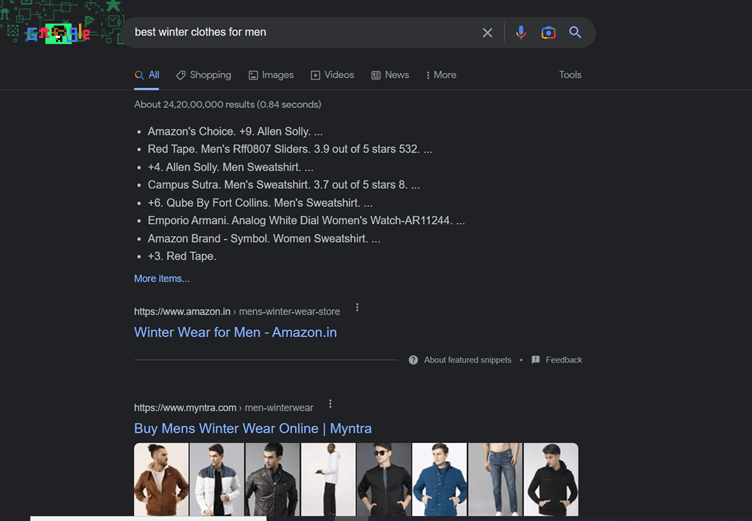 We see the E-Commerce website of Amazon and Myntra rank at the top. Now as a user the highest possibility would be to click the website that comes to the top, this is where SEO comes in to help you rank. If you wish your website to rank at the top get the best digital marketing agency to do your SEO work and see your business grow.

Next, we would discuss what Search Engine Marketing is all about. By search engine marketing we primarily talk about Google ads. Google Adwords as we call it is basically a platform developed by Google to promote your website on Google's result page after paying a certain remuneration to Google eventually helping to increase the visibility of your website on the search engine result page. With well-designed ad campaigns as presented by Google in Google Adwords, one can get help in achieving the desired outcome especially when it comes to their E-Commerce business and website.

2. Social Media Marketing (SMM)

Social Media has taken over the whole wide world. You can hardly find people not looking into their social media handles through their phones while on a crowded transport. E-Commerce businesses can use this strategy to grab hold of an enormous number of people through platforms like Facebook, LinkedIn, Instagram, Twitter, and many more.
From food E-Commerce giants to clothing E-Commerce giants like Zomato to Flipkart all use Social Media Marketing on a daily basis to grab hold of the seemingly increasing users on social media platforms attracting them through the right visuals and messages. With about 4.8 Billion social media users around the globe, getting hold of the right audience has now become much easier.
This is what a social media creative design for a highly reputed E-Commerce website on Facebook looks like.
3. E-Mail Marketing

E-mail is still one of the prime communication channels across the globe. Big E-Commerce giants use E-Mail not only to get hold of new leads but go for re-targeting as well. An E-Mail has other uses when it comes to E-Commerce businesses for both the users and the business owners. All monetary transaction data, all new offers, and products can be sent through E-mail ensuring a better response, a better open rate, and a high rate of business conversion in the end.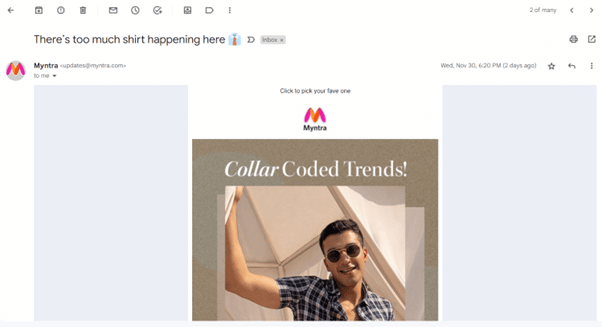 This is how Myntra focuses on retargeting its old customers with newer offers and discounts.
Conclusion

It is never possible for an E-Commerce business to grow itself without the help of any external source. Digital Marketing is the only solution that can and will help an E-Commerce website to achieve its desired position and an optimum result.
If you are from Kolkata or any other part of the country you would surely need to choose Digital Rosogulla the best digital marketing agency in Kolkata and get your job done with complete ease.

The time is right to contact the best digital marketing company in Kolkata!!