The term we refer to as marketing is undoubtedly an age-old terminology and so is the concept in general. The whole game has changed from a long and monotonous perspective to a simpler and narrow way of marketing. Now, Digital Marketing has changed how marketing used to look for the mass. Let's share a small picture for a better understanding.
Looks familiar? How many of us see promotion posters up on walls these days, my answer is significantly less. The world has indulged itself in the screens of phones, tablets, and electronic devices. While the world is hooked on leveraging the best out of the Internet, the biggest marketing mind out there has chosen to use the Internet itself for the sole purpose of marketing and reaching out to a massive population or their target audience and getting the conversion done.
Now, the next question that might arise is why social media and not any other platform? Let me share a small insight for a better understanding.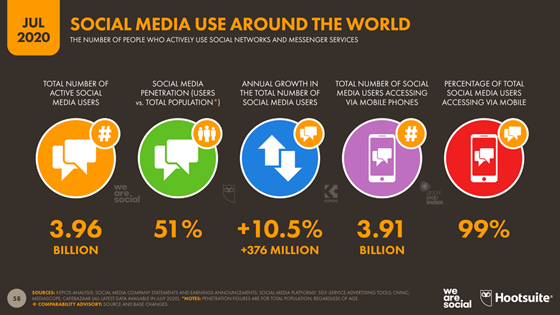 Just look at the numbers…..

Isn't it mesmerizing? Now if we check closely, more than half of the global population is into using social media platforms on a regular basis be it fun activity or anything constructive, keeping these significant points into consideration, the greatest marketing minds across the world have chosen social media in particular to promote and market their businesses. Suppose, you are someone from the city and want to market your business but not sure whether you should get in touch with the best social media marketing agency in Kolkata or not before that you should get a glimpse of what social media marketing is all about and why you should get the best minds of this city to do your marketing through the platforms.
So, let's begin with our journey.

First question first.
What is Social Media Marketing?
Social Media Marketing encompasses using the best Social Media Platforms and promoting the service or products accordingly catering to the right audiences that too at the very right time.
What Platforms Are the Best When It Comes To Promoting To the Indian Audience?
We can select numerous platforms to promote but when it comes to targeting local customers or customers in general we can prefer using Facebook marketing, Instagram, WhatsApp, YouTube, and LinkedIn. Now, why these and why not others? The only answer that can be given is to look at the usage. About 330 million users are there on Facebook only from India and if we look on a worldwide basis, the amount comes to about 3 billion.

If we see the things happening in general, we find Facebook Marketing and Instagram marketing to be the most fruitful.
Let's dive into the world of Facebook Marketing-
Facebook marketing and promoting through this platform is something brands try on applying but the result isn't always that beneficial, that happens due to a lot of reasons. Be it your target audience segmentation, creative design, captions, area of operation selected, budget selection, segmentation, and many more. We will now discuss why these are important and why a campaign should be made in the most appropriate manner keeping these aspects in mind. The same is usually done through Facebook's own advertisement platform.
What campaign options does Facebook provide us with?
The UI of Facebook ads platform is designed in such a manner that it becomes very much easy and highly affordable for the business owners or their marketing team to perform the marketing tasks and campaigns that too at extreme ease.

Let's have a look into a few marketing campaign objectives that are provided by Facebook in order to ensure easy conversion attainment for businesses.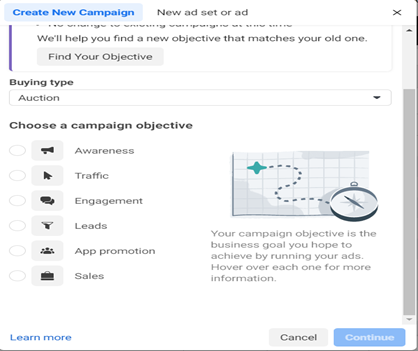 Mostly all the business objectives and strategies to attain their desired level of ROI happen through these.
Let's check Instagram once.

The major platforms provide objectives to attain, but it is the user who decides on what to perform and how to do so. Let's me show you some factors we the best social media marketing agency in Kolkata follow-
1. Understand and create your TG (Target Audience/Group).
2. Setting the right goal.
3. Setting up the budgeting in the right amount and right factor.
4. Creating the appropriate content that we wish to promote through the Social Media handle as content is the most vital aspect.
5. Tracking and Analysation.
Now, it isn't everyone's cup of tea to get the job of Social Media campaign selection and advertising is done as so in such an easy manner. You would need to get in touch with the best digital marketing company in Kolkata Digital Rosogulla located in Salt Lake, Kolkata to provide you with the best digital marketing services like none other.

Why the delay? Get in touch with us now and secure a bright future for your business through us.