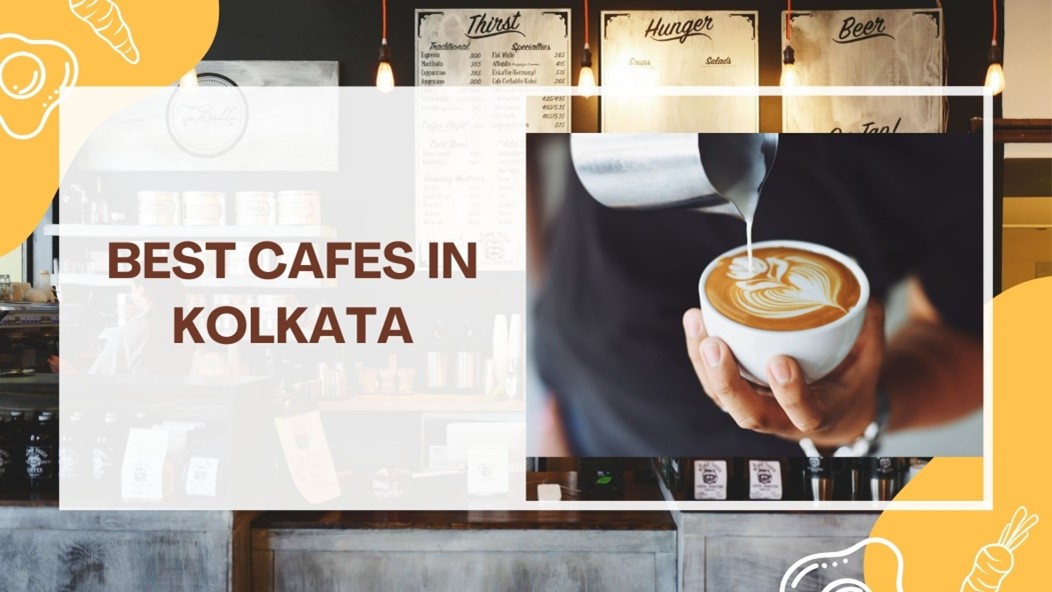 Kolkata has always been a place of attraction for tourists for its rich culture, history, and especially its diverse culinary delights. It has an amazing blend of the old-world charm and the modernity that one expects from a metro city. This unique blend can also be found in Kolkata's robust food culture as the city offers not only old restaurants and street foods but also various happening cafes. When you think of Kolkata, sweet syrupy rosogolla, mishti doi, and aloo biryani are some of the popular must-eats that rule our minds. But café culture has also been thriving in Kolkata with new and exciting ventures popping up here and there- literally. Wherever you go, you'll find a new café nestled in the corners of the bustling streets. There's not a lack of cafes anywhere in Kolkata, that's for sure. Here's our selection of the best cafes in Kolkata that a café hopper simply can't miss out on.
Some of the best cafes in Kolkata
If you want to have a quiet time with your friends or work peacefully in a cozy ambience, then this is the place for you. The chill atmosphere and great food define this quaint café. The café primarily focuses on organic and vegan treats that are equal parts delicious and healthy. They serve a wide assortment of classic American sweet and savory delights and have really good coffee and tea options. Not only that, they have a lovely collection of books and board games for your enjoyment.
Recommended dishes: Bagels, Salted Caramel Cupcake, Cinnamon Rolls, Coffee Hazelnut, Banana Bread
Check out their Instagram page: 8th Day Cafe & Bakery
Are you an art lover? Or book lover? Definitely a food lover, right? Or even better, a lover of all the 3 categories? Well, whatever category you fall in, Artsy café caters to all. It is a wonderful place to spend some time in surrounded by a huge collection of books and beautiful artwork to keep you enthralled while sipping on a nice cup of coffee. Their menu consists of a wide array of Italian and Continental dishes that are sure to satisfy your taste buds. The café's elegant yet chic décor is definitely its highlight.
For all those who are passionate about art, Artsy also provides an amazing opportunity to showcase your artistic talent and even make a few bucks!
Recommended dishes: Continental Breakfast, Mushroom Pate, Eggs Benedict, Vietnamese Iced Coffee
Check out their Instagram page: Artsy Coffee & Culture
Back in the olden days when branded coffee shops hadn't come into being, Indian Coffee House was one of those cafes where people could while away their time chit-chatting and enjoying good food. It was a favorite hangout area for intellectual youths, office-goers, and students to have their 'adda'. Manna Dey's iconic song 'Coffee house er shei adda ta aaj aar nei' perfectly captured the nostalgia of spending the golden period of our lives in Coffee House. Times have changed, but the enthusiasm of people to gather and engage in 'adda' in this old coffee shop is very much alive.
Recommended dishes: Coffee with Ice cream, Onion Pakoda, Chicken Cutlet with Coffee, Mutton Kobiraji, Fish Finger
The name 'Calcutta 64' might suggest that its specialty is Bengali cuisine. In reality, it is famous for serving lip-smacking Mexican and Italian cuisines along with other quick bites and delectable desserts. The café lends a bright ambience that is quite inviting.
Recommended dishes: Mexican Grilled Chicken Pizza, Choco Latte, Hazelnut Frappe, Ginger Lime Soda, Double Chocolate Walnut Brownie with Ice cream, Grilled Chicken Sizzler
Check out their Instagram page: Calcutta 64
Calcutta Bakery Café is a pretty little café with a warm ambience that serves scrumptious meals and finger-licking quick bites. It has a very tasteful décor portraying the rich heritage and culture of the city on the café walls. The place offers a variety of cuisines that can make your taste buds go wow.
Recommended dishes: Chicken Lasagne, Hazelnut Cappuccino, Chicken Ala Kiev, Brownie with Ice cream, French Onion Soup, Ultimate Pork Platter
Check out their Instagram page: Calcutta Bakery Cafe
The well-known café in South Kolkata is a must-visit, especially for coffee addicts. The café is located in a restored heritage building and features a gorgeous and serene courtyard as well as a delightful indoor section. The black and white checkered floor, marble tables, and wrought iron chairs make you feel as if you have been transported to a bygone era. To add to it, the food is just fabulous!
Recommended dishes: Peri Peri Crispy Chicken, Brownie with Chocolate Ice Cream, Cold Brew Coffee, Zucchini Fries, Fish and Chips, Cranberry Coffee, Mushroom and Cheese Bruschetta
Check out their Instagram page: Roastery Coffee House
Blue Tokai Coffee Roasters
Blue Tokai is one of the best places that offer genuinely good coffee. They are known to obtain the freshest and most high-quality Arabica coffee beans from different regions of India and roast them to bring out distinctive flavors. Much of the café's welcoming ambience is attributed to the pleasant and relaxing aroma of freshly brewed coffee and tea. Just find a cozy corner to retire to and have a delightful time with good food and good brews. Don't forget to try their delicious desserts too!
Recommended dishes: Chocolate Hazelnut Croissant, Almond Croissant, Vietnamese Iced Coffee, Peri Peri Fries, Cheesy Chicken Pepperoni Pizza, Mushroom Scrambled Egg in Sour Dough
Check out their Instagram page: Blue Tokai Coffee Roasters
The Green House café lives up to its name as it's designed to make you feel comfortable in a space filled with greenery, thus giving the ambience a fresh and vibrant feel. Animal lovers will have a blast here! There is a separate section with in-house dogs you can frolic with and even bring along your own pets. The café also features a private hookah zone, a dining room, and a smoking lounge. Now coming to food, the menu offers diverse food options from cuisines like Continental and Chinese to satisfy every palate.
Recommended dishes: Chicken Tikka sandwich, Golden Fried Chicken Supreme, Brownie with Ice Cream, Grilled Chicken Pizza, Kitkat Shake
Check out their Instagram page: The Green House
As the name suggests, the café has a biker theme with an interior that has a rustic feel to it. It is one of the best cafes in Kolkata till date. For years, this has been a chill-out space for friends, families, and lovebirds just as much as it has been for riders and their pillions. The café has 3 sections – a private dining space, a bar, and a lounge. Foodies can enjoy free Wi-Fi offered by the café while munching on various exquisite international dishes.
Recommended dishes: Hawaiian Pizza, Pizza Margherita, Lasagne, Fish Fingers, Potato Potholes, French Benedict, Kiwi Mocktail, Chicken Wings
Check out their Instagram page: The Biker's Cafe
Continuing with themed cafes, the next one in line is Hard Rock Café – a Rock 'n' Roll themed café slash pub. If you are a party animal, then the café's live music performances and highly energetic vibe will surely pump you up. Its premium menu boasts a wide range of classic American, Mediterranean, and Mexican dishes, some of its signatures being Legendary Burger, Jumbo Combo, Classic Nachos, etc.
Recommended dishes: Herbed Chicken, Jumbo Veg Platter, Long Island Tea, Legendary Chicken Burger with Bacon and French Fries with Cheese, Tex Mex Spiced Grilled Chicken
Check out their Instagram page: Hard Rock Cafe
Known to serve one of the best coffees in Kolkata, Sienna Café is a romantic and cozy dining space perfect for couples. Situated at the back of a design studio, it is quite a beautiful café with a quirky look, designed with immense attention to detail. Food connoisseurs would relish the taste of unique fusion foods served here that are made from local ingredients.
Recommended dishes: Pesto Spaghetti, Avocado Salad, Tuna Sandwich, Salted Caramel Shake, Dates & Walnut Cake, Fish and Chips, Spiced Hot Chocolate
Check out their Instagram page: Sienna Store & Cafe
Mrs. Magpie is your go-to destination for sweet delicacies, a literal paradise for all those who have a sweet tooth. With a cozy ambience and vintage-inspired decor, this whimsical cafe is as sweet as the sweet delights it serves. Their mouthwatering cupcakes and brownies with innovative flavors are to die for!
Recommended dishes: Gingerbread, Apple Cinnamon Pie, Hot Chocolate with Marshmallows, Chicken Potpie, Cupcakes
Check out their Instagram page: Mrs. Magpie
Love taking selfies to post on Instagram? Then you'll absolutely adore this Insta-worthy Scandinavian-style café that has a dreamy décor you can't help but fall in love with. This is a perfect place to go on dates with your special one and dine on fancy continental dishes. If not your date, you can bring your pet with you as well as it is also a pet-friendly café.
Recommended dishes: Pesto Mushroom, Cinnamon Hot Chocolate, Rocky Road Brownie, Chicken Potstickers, Barbeque Chicken Pizza, Strawberry Cheesecake
Check out their Instagram page: Marbella's
Explore these charming cafes
Kolkata's nickname 'City of Joy' is justifiable, as the city spreads happiness through its various culinary offerings and fully satisfies Kolkata's love for food. Whether you are looking for artistic inspiration, a lively atmosphere to lift your mood, or just a place to de-stress, Kolkata's cafes can cater to all these preferences. So if you are a tourist visiting the city for the first time or a native who hasn't yet discovered these food places, do explore these charming cafes and indulge in the diverse flavors that they have to offer.
Find this article engaging and informative? Check out more on Digital Rosogulla.